Videos
For more videos on above knee amputees and prosthetic legs, see my Youtube Channel.
See the video with my prosthetic running leg:
Also see www.amputee-running.com. This is the website of the lady whose Youtube video had inspired me to start running on a fitness prosthesis.
In the next two videos I have been testing Orthomobility's VGK (VERY GOOD KNEE). I wanted to find out for myself how the knee functions after going down more than 600 stairs. I know from my experience with other mechanical hydraulic knees that they lose function when the hydraulic oil gets hot. According to the manufacturer, the VGK has a special type of "fluidic" control that compensates for increased temperature, additional weight bearing, additional weight of the foot (shoe). So look at this video to see what I found out:
In the next video there are more impressions of me testing the VGK. Note that I do not wear a shoe with my prosthesis. I found that for me it works much better without. This is primarily because I have a short stump and I need to save weight in order to be able to control my prosthesis better. In addition, the prosthetic foot's energy storing function works best when there is no shoe.
Other amputee and prosthetic leg websites
The RED LINE Foundation was established in 2019 in Switzerland to assist people who have lost limbs in prosthetics. Helping a person to return to normal life in this difficult situation is the main aim of the privately sponsored RED LINE foundation.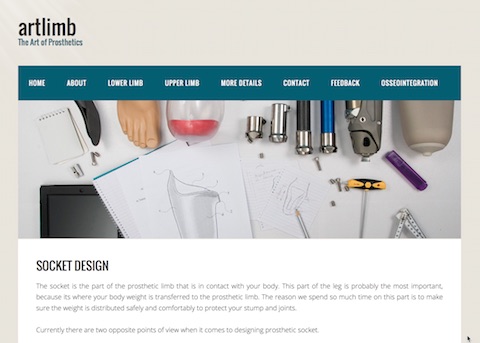 www.artlimb.com is an information resource for amputees, designed by 3 top prosthetic experts from Australia and Britain. A must read for new amputees as well as for more experienced prosthetic leg users!
I welcome your suggestions for more websites that may be valuable to leg amputees looking for information about prosthetic legs and living life as an amputee. Please let me know.